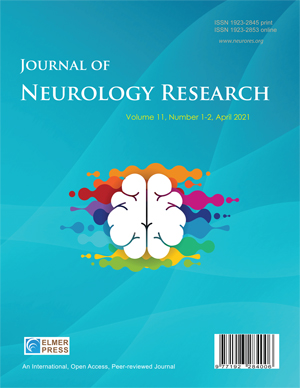 Frequency: Bimonthly
Journal Access: Open Access
ISSN-print: 1923-2845
ISSN-online: 1923-2853
Journal scope: Journal of Neurology Research is an open access, peer-reviewed, international journal. All submissions relating to basic research and clinical practice of neurology and neurosurgery are in this journal's scope. Manuscript types include original article, review, case report, short communication, book review, letter to the editor.
Covered and indexed: Directory of Open Access Journals (DOAJ); Worldcat; EBSCO; Google Scholar; Google; JournalTOCs; PubMed: selected citations.
Treatment of Neurodegenerative Ataxias With Intravenous Immune Globulin
Neurodegenerative ataxias, including spinocerebellar ataxias (SCAs), are progressive diseases without effective treatment. There is preclinical evidence that inflammation may contribute to neuronal injury in several neurodegenerative ataxias. Intravenous immune globulin (IVIG) is a therapeutic modality that is used as treatment of several autoimmune and inflammatory disorders. The primary objective of this open-label pilot study was to assess the effect of IVIG on neurodegenerative ataxias as measured by total scale for the assessment and rating of ataxia (SARA) score. Full Text


Vol. 4, No. 5-6, Dec 2014
Table of Contents
Original Article
Case Report